Whereas the previous decade created an almost boyish shape in women, the Thirties saw a return of femininity. Women's clothes accentuated their curves, and dresses had natural waistlines and longer skirts.
Bathing Suits
Edit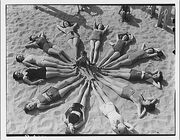 Women's bathing suits had a modesty skirt that covered the upper thigh. The materials used were often
Lastex
, knit wool. or a blend of the two.
Undergarments
Edit
1935 saw the introduction of bra cup sizes (A, B, C, and D) by Warners.
http://fuzzylizzie.com/swimsuits.html
http://www.fashion-era.com/bras_and_girdles.htm
http://glamourdaze.blogspot.com/2009/11/1930s-fashion-glamour-of-womens-shoes.html